Advanced Performance Course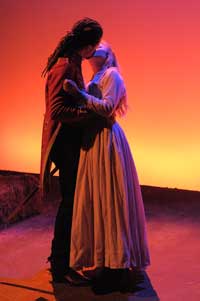 The Advanced Performance Course is intended exclusively as an advanced progression course for students who have successfully completed our Foundation Course in Acting and want to develop their acting skills to a high level. Every year most of the students on the Foundation Course do move on to take this course.
The Course
In the Autumn term, the classes in Body and Movement and in Voice and Speech continue, and the Acting classes apply the principles that you have learned in order to bring a script to life in performance.
In the Spring and Summer terms, work is geared to two full-length productions, one in March and one in July. These two productions are given full technical resources and feature in the season of plays at The Questors Theatre. The March production takes place in our Studio theatre and the July production in our Playhouse.
Recent productions have been:
Trelawny of the 'Wells' by Arthur Wing Pinero (2017)
Love's Labour's Lost by William Shakespeare (2017)
Stags and Hens by Willy Russell (2016)
Dead White Males by David Williamson (2016)
The Young Idea by Noel Coward (2015)
Fear and Misery of the Third Reich by Bertolt Brecht (2015)
Blue Stockings by Jessica Swale (2014)
The Balcony by Jean Genet (2014)
On the Razzle by Tom Stoppard (2013)
Trojan Barbie by Christine Evans (2013)
Doña Rosita the Spinster and Yerma by Federico García Lorca (2012)
Teechers by John Godber (2012)
The Man Who Came to Dinner by George S Kaufman and Moss Hart (2011)
Entertaining Strangers by David Edgar (2011)
The Libertine by Stephen Jeffreys (2010)
The Accrington Pals by Peter Whelan (2010)
Far from the Madding Crowd by Thomas Hardy (2009)
Henry VI by William Shakespeare (2009)
A Midsummer Night's Dream by William Shakespeare (2008)
The Caucasian Chalk Circle by Bertolt Brecht (2008)

Progression
Some students go on to pursue a professional career as an actor, while many join our acting company at The Questors and continue to perform here regularly.
Recent students on the course have successfully gained places at drama schools, and have appeared professionally at the National Theatre, in the West End and on TV.
Classes
Classes are held at The Questors Theatre in one of our large rehearsal rooms.
Acting class
Saturdays 3.15 - 6.30pm & Wednesdays 7.30 - 10.00pm
Body & Movement class
Tuesdays 8.45 - 10.05pm
Voice & Speech class
Tuesdays 7.15 - 8.35pm
There are also many additional rehearsals for the two major productions.
Membership of The Questors
As a Questors student you enjoy all the facilities and benefits of membership of The Questors, including free tickets to all productions by The Questors during the year (except the Christmas show).
Equity Membership
As a student on the Advanced Performance Course you are eligible to join Equity as a student member.
Admission
Only applicants who have successfully completed our Foundation Course in Acting will be considered.
Click here for Dates & Fees