Actor Training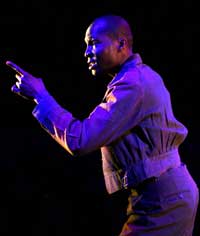 "With the guidance and support of the Questors training at my back, I won a place on the BA Acting course at The Guildhall School of Music and Drama." Tom Lincoln, 2008–10 (subsequently trained at the Guildhall School of Music & Drama)
"The Questors gave me the strength and confidence to go on and embark on my Hollywood career." Rahul Nath, 2005–07 (subsequently trained at Stella Adler Academy of Acting, Hollywood)
"Using the skills and knowledge I gained helped me first get into drama school, and then make the move into the professional theatre, where the Questors name is greatly respected." Chris Storer, 1996–98 (subsequently trained at LAMDA)
We have been successfully training actors for seventy years in our part-time acting course. It is ideal for you if you want to train in acting while keeping your full-time job.
We are regularly recommended by leading drama schools such as RADA, Central School of Speech and Drama, LAMDA, Drama Studio London, Drama Centre London and others.
Students on our Foundation and Advanced Performance courses are eligible to join Equity as a student member.
So if you're passionate and serious about your actor training, apply to join our Foundation Course in Acting.