Questors Youth Theatre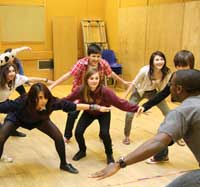 Our Youth Theatre has been running for over 60 years. We now offer innovative and exciting classes for about 500 young people each week, catering for all ages from 6 to 18. The classes are organised according to age and school year group.
The Course
We offer a drama-based programme with an ethos of exploring an individual's creativity and enhancing their powers of self-expression. This is conducted largely through improvisation and role-playing exercises, augmented with some text and script work.
In the younger groups, age rising-6 to 10 years (school years 1-6), there is an emphasis on imaginative play to develop children's confidence and skills in make-believe.
In the groups for young people age 11 to 18 (school years 7-13) the work consists of role-playing improvisations and drama exercises through which young people can enhance and develop their acting skills. The classes are intended as a foundation in a range of theatre skills as well as acting.
At the end of the year in July all the groups stage a showcase in the Studio theatre. This is a chance for family and friends to see some of the ideas that the groups have been working on over the final term.
In addition Questors Academy Youth Theatre members can audition for The Questors' annual youth production and for children's and youth roles in other Questors productions (such as our Christmas production). A number of Questors Academy Youth Theatre students have gone on to join the National Youth Theatre.ProgressionEach September, regularly attending members of Questors Academy Youth Theatre are usually invited to join the next year-group automatically.
Classes
Classes for primary school year groups (1–6) take place on Saturdays at times between 9.00am and 3.00pm, and each lasts for one hour. (Exact times vary according to each group.)
Classes for secondary school year groups (7-13) are held on weekday evenings from 5.30–7.00pm.
Membership of The Questors
Youth Theatre members are eligible for a free personal ticket to all Questors productions (except the Christmas production and visiting companies).
Applications
There are no auditions, and groups are open to all children and young people aged rising-6 – 18.
You can apply to be added to the waiting list online or by post.
Click here for Dates, Fees & Joining
Click here for online application to join waiting list
Click here to download a postal application to join waiting list